How to Select A Lovely Cool Blog Name
What should be cool and lovely blog name that can attract more people? The first question arises in your mind when you think of starting your own blog.  Oh, a pretty tricky question but definitely not difficult to answer. Don't be worried about it. In this blog you will find simple tips that will help you choose a perfect domain and blog name.
Cool Lovely Blog Name
The first step towards a blog is, getting a domain name. Your online audience will recognize you with this name. Whenever your users or audience will try to find you they will type this name in the address bar. So use these few tips for choosing your domain name.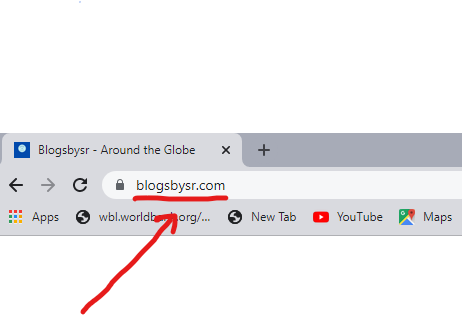 Following points you should consider while starting your blog:
Blog Niche and Audience

Tone & Title of Blog Post

Domain Name

Appropriate Domain Name Extension

Blog Name

How it Appears in Domain URL

Get Feedback From Your Circle
Blog Niche and Audience
The first step is you should be sure about blog niche. Be sure with whom you are talking with. In simple words, if you spend hours and select a name "Latest Fashion Trends 2021" but your content is focused on "Healthy Eating Habits", you have just wasted your time. So take enough time to think about the niche you want to write about.
The Domain name "Better Living" will attract the audience that is interested in improving their lifestyle and "MangoBazz" will be visited by the audience that are interested in information and entertainment. If you will understand your audience, it will also help you to select a right domain name.
Tone & Title of Blog Post
The voice tone of your blog will also help you select the appropriate topic. "Memedroid" will attract the attention of the audience who are interested in comics, while "Beyound Beleive Journey of Elon Musk" will hit the audience who are interested in serious technology and motivational stuff.

Domain Name
Now  you have decided the niche, target audience and tone of your blog. It's the time to select the domain name.
Try to select a short domain name like Twitter and Facebook.
Use easy to pronounce and easy to remember words for your domain.
Don't use special characters, hyphens, and numbers in your domain name. They create a problem in lead generation and hard to remember.
Don't select too specific names like "News from Las Angles". In future you can't expand it and it is not easy to change its name.
The best SEO practice is to use keywords in your title. If your targeted keyword is Saloon then you should select a domain name like "naturalsaloon.com".
Another way is to select a brandable name that is catchy and attractive, not necessarily using a keyword. Good example is MacDonalds, Apple and Twitter
Domain Name Generators can help you find an attractive name without copyright issue.
Suitable Domain Name Extension
After finalizing the domain name, select a suitable domain extension. Domain Extensions are suffixes that are added at the end of any domain name. Each extension has its own purpose. For example
.biz: Business, Ecommerce
.edu: Education
.com: Commercial
.net: Network
.info: Information
Studies reveal that .com is the most widely used extension and most expensive to buy. This extension is easy to remember.
Copyright Issue
Try to choose a unique domain name. If two websites have similar names it can start a legal dispute among websites.
You should follow copyright rules to avoid any inconvenience in future.
For example, if anyone selects "Apple" as a domain name, then your website can get a penalty.
Blog Name
Following tips will help you to choose the most relevant name for your blog:
Consult Thesaurus to select a different attractive name. For example if will enter a simple name Women Empowerment it will give a list of similar name.
Use alliterations for interesting and spicy names. Repetition of the same alphabets in the beginning or at intervals can create a catchy name for your blog for example Mickey Mouse and Wonder Women
If you want to keep your domain name short then use abbreviations. Like ESPN (Entertainment and Sports Programming Network) – a famous sports channel. HBO is abbreviation of Home Box Office
You can use your own name as a blog name, like Neil Patel and Sayed Balkhi. This way of naming your blog is  both unique and banded. But it has a limitation as if your are dealing with a niche of  products, you can't use your name.
Make your blog name a call to action and use strong action verbs like Learn with Zainab and Fluent in 1 Month.
You can use Google Translator to use words from other languages to select a superb catchy word.
A fun way to select a lovely and brandable name for your blog is Portmanteau. For example, Medicare: is derived from Medical and Care and Fortnight: is derived from Fourteen & Night.
If the tone of your blog is light than you can use funny names, that will attract the audience attraction.
Motivational posts should convey their message in the title.
Think differently and choose a unique name
Till now we are looking for words that in one way or the other way relate to your blog, but at times it is also good to select a word that does not relate to your work. For example, Apple, this word has nothing to do with technology, but it is one of the most brandable names of the world. The mind behind this company selected the name of a fruit for a tech company and made made it the most popular name. So think creatively and don't follow your competitors. Take inspirations from your daily life and select a name that will stand out of the crowd.
You can also combine two different words and get an impressive name like Blogging Wizard, BeingGuru etc.
How It Appears in Domain URL
No matter which name and how you select a name, you should check that how it appears in URL. In URLs name appear in a string without space. So at times it gives awkward meaning when we read it there. For instance "Whorepresents.com"  "childrenswear.com" and "Choosespain.com".
Get Feedback from Your Circle:
Your colleagues, family and friends can also help a lot. Either they can come up with new ideas or if you have already selected a name they can give you a feedback as your audience.
Conclusion:
Easy to remember, short, unique name is necessary for a successful blog. Once you are done with your blog name, now check its availability and register it at the domain registrar like Hostinger, Fastcomet, 000Webhost etc
40% of the whole web domains are on WordPress and even a beginner can build a magical website with the help of free/premium themes and tons of plugins.